BEROYA will set up your UK company without the hassle of traveling, as it has an integrated and specialized team of highly qualified and experienced lawyers and consultants to establish and register companies in the UK.
BEROYA will grant you an exceptional experience to start your business in Britain, as the number of Arab companies that decide to start their business in Britain is increasing day by day.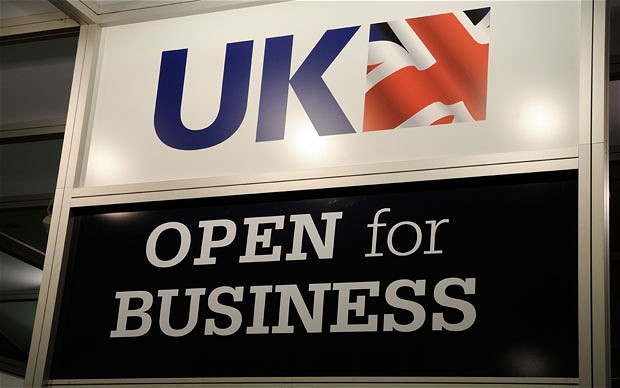 BEROYA will establish your limited liability company in London, the capital of finance and business, in just 3 working days.
Our team will complete all official procedures and legal documents, notarize all official company documents from the Notary Public, the British Foreign and Commonwealth Office and your country's embassy in London, and send them to you via email as well as secured express mail.
What are the advantages that you enjoy when establishing a British company in London?
Registering a company in Britain makes you enjoy full protection by virtue of the British Law for your intellectual and physical property. It also enables you to enter the European, US and even Arab markets more easily. In addition, registered companies that operate outside Britain are exempted from taxes.
The most important advantages of establishing a British limited liability company:
Establishing a British company in London, which is globally rated as a financial and business centre with a global high-level legal classification, gives the company high credibility.
The company can open bank accounts in international banks.
The company can re-register itself in other regions of the world as permitted by the law, as it can operate in any other country by opening a commercial representative office in the concerned country, which opens the way for practicing activities that are difficult to be licensed in some countries such as satellite channels, newspapers, magazines, insurance companies, financial companies, etc.
Founders can absolutely lead the company based on the company's articles of association as authorized by the law.
The company's capital can be in the form of shares with values determined by members of the board of directors.
The legal and financial form of the company prevents it from being involved in thorny financial issues, such as loans and the resulting interests as well as issues of letters of guarantee, mortgage and the risks related thereto.
The legal and financial form of the company enables it to obtain the necessary capital for its projects without resorting to banks and the resulting requirement of guarantees that may not be available to many of them.
The articles of association of a company makes it a solid base for attracting investors or shareholders and thus avoids a lot of discussions and conditions that may be exercised on other forms of other companies.
 This paves the way for the company to deal with financial companies, international banks and insurance companies, which will lead to its entry into global financial markets and the increase of its investments.
The company can enjoy tax exemption as long as it does not operate in Britain.
You may exercise any activity in Britain after opening a bank account inside Britain and registering with HM Revenue & Customs.
Your company must submit an annual statement to the HMRC stating its exercise or non-exercise of any business in Britain.
BEROYA provides this service to you for a small annual fee.
Any change in the shares and stock of the company must be registered in the Company Registration Department in Britain, otherwise it will be void.
Documents required to establish a British company:
First – The proposed name you want for the company in English to make sure it is available and unreserved.
Second – An overview of the company's scope of work, not exceeding two lines.
Third – An officially notarized copy of the passport of the company owner.
Fourth – The full certified address of the company owner.
What does it mean to be a BEROYA client?
BEROYA offers distinguished services to its clients from different continents, including:
Finding suitable companies to establish partnerships and joint ventures with.
Communicating with the concerned government authorities.
Facilitating legal procedures, such as:
Conducting company's business.
Applying for benefiting from investment incentives.
Issuing licenses.
Finance and financial facilities.
Work and residence permit.
Beroya Business Solutions … Your favourite place in the world of finance and business